If you are a tourist seeking the perfect blend of culture, adventure, and history or simply a travel goon ready to taste a heaping spoonful of vibrancy, preparing a trip to India's Golden Triangle should be your next move.
As the name suggests, the Golden Triangle, comprising Delhi, Jaipur, and Agra, is a golden opportunity to experience the richness of India's past and present.
A Tale Of Three Cities — Adventure Spots And Tips
Packing your bags and jumping onto the adventure bandwagon by exploring India's Golden Triangle helps you check off several items on your wanderlust bucket list. Let's dive into the fun, outré, and unexpected aspects of each city. So, let's dig in for the remarkable journey that awaits.
Delhi – The City of Diverse Adventures
Delhi weaves an enchanting tale of culture, chaos, and charm, breathing life into every visitor's tour. Here's a rundown of adventurous spots and tips:
Visit Qutub Minar: Part of UNESCO's World Heritage Sites, the Qutub Minar is a must-see attraction. For a broader understanding of its history, consider guided walking tours.
Explore Humayun's tomb: Enjoy a stroll around the tomb of the Mughal Emperor – Humayun, and experience the exceptional architecture.
Food Walks: Experience Delhi's culinary delights with expert local guides who lead you through the city streets from daytime to night.
Travel Tip: Delhi's smog can get quite overwhelming. Remember to carry a mask and avoid venturing out during peak traffic hours.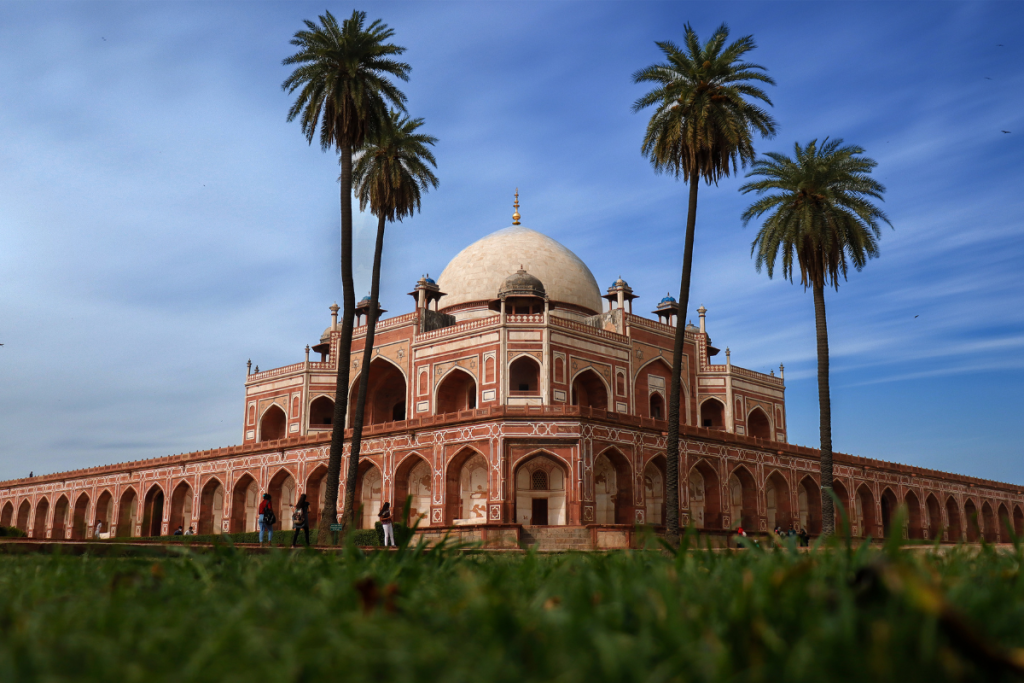 The Pink City Explorations Of Jaipur
As you transition from Delhi, you'll appreciate the change in palate, decor, and ambiance. Jaipur offers some fantastic sights:
Amber Fort Excursion: An immersive guided vacation awaits in Amber Fort, a remarkable testament to Rajput grandeur.
Jal Mahal: You'll witness the unique experience of a palace amidst a lake. Take a boat ride across the serene waters if you wish.
Elephant Village: Choose this adventure activity when you're in the mood for something unique, and interact with these gentle giants.
Travel Tip: Embrace the authentic experience of a sunrise hot air balloon flight for a memorable vacation.
Traveling From Delhi To Jaipur
Traveling from Delhi to Jaipur is a piece of cake with guided tours by providers like Trafalgar. If splurging a bit is on your agenda, private transportation is. Solo explorers worry not; joining organized group tours promises an enriching experience.
Here's where the review from knowledgeable guides helps. Trafalgar offers comfortable bus tours from Delhi to Jaipur, or, for a VIP experience, opt for private luxury transportation. If traveling solo, you can join group tours for a hassle-free journey.
Agra – Mughal Majesty
Home to the iconic Taj Mahal, the city of Agra holds much more for the adventure-seeker:
Red Fort: Delve into history with expert guides who fascinate with intriguing stories about this massive Mughal Fortress.
Local Handicraft Bazaars: For the shopaholics, Agra's markets are filled with unique marble creations, leather goods, and the famous Petha sweet.
Travel Tip: Planning an early morning visit to the Taj Mahal ensures not just perfect photos but also fewer crowds.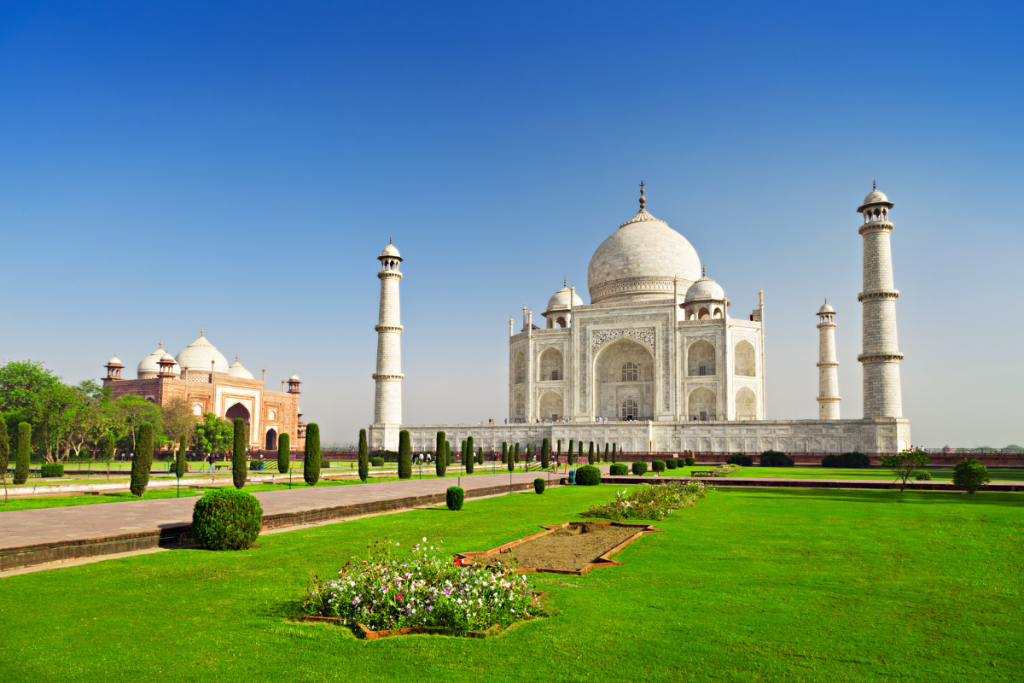 How To Travel — Jaipur to Agra
The journey from Jaipur to Agra can be arranged by luxury coaches, providing every comfort along the way. For independent travelers, car rentals can also be a convenient choice.
That's it! You've been around the fantastic trifecta of India's Golden Triangle. Remember, your favorite excursion or adventure spot might be just around the corner, so keep your eyes open. Let the staff handle all your travel plans and make traveling totally hassle-free. So choose your travel tours wisely, download the necessary info, and hit the road!
Around the World Adventure Tip: Consider extending your trip to discover the African continent, Europe's splendors, or the USA's stunning landscapes. Rogue Traveler is here every step of the way to make these dreams a reality for you!
The Perks Of A Guided Tour
When you opt for a guided tour, the advantages you enjoy are manifold. Right from a personalized itinerary that accommodates your preferences to an informative guide that adds substance to the marvels you visit, the benefits add up.
Guided tours often include travel and accommodation arrangements, taking the stress of planning off your shoulders. With vaccinations and pandemic-related protocols, such a tour offers an extra measure of safety and convenience. Let's uncover some remarkable perks:
Expert Knowledge
Learn from the Experts: Imagine strolling through winding Rome streets with award-winning tour guides, ready to spill the beans on every corner.
Handpicked attractions: Only local experts know the best sightseeing spots. So, whether it's the USA's Grand Canyon or Africa's Serengeti, they'll hit your memory bank with the best views.
Unforgettable Experiences
Off the paved path: A solid tour guide can show you the path less traveled, offering you unique experiences and ensuring that your trip is a memorable vacation.
Cultural immersion: Exposed to authentic experiences, you'll sink deeper into the traditions and ways of living of the country you traverse.
Comfort and Convenience
Hassle-free Travel Plans: Booking hotels, arranging transportation, or planning excursions can be a headache. Guided tours take stress out of the equation, making traveling as relaxing as a river cruise.
Safety First: In unfamiliar territories, a little worry is natural. But guided tours ensure that your safety is paramount.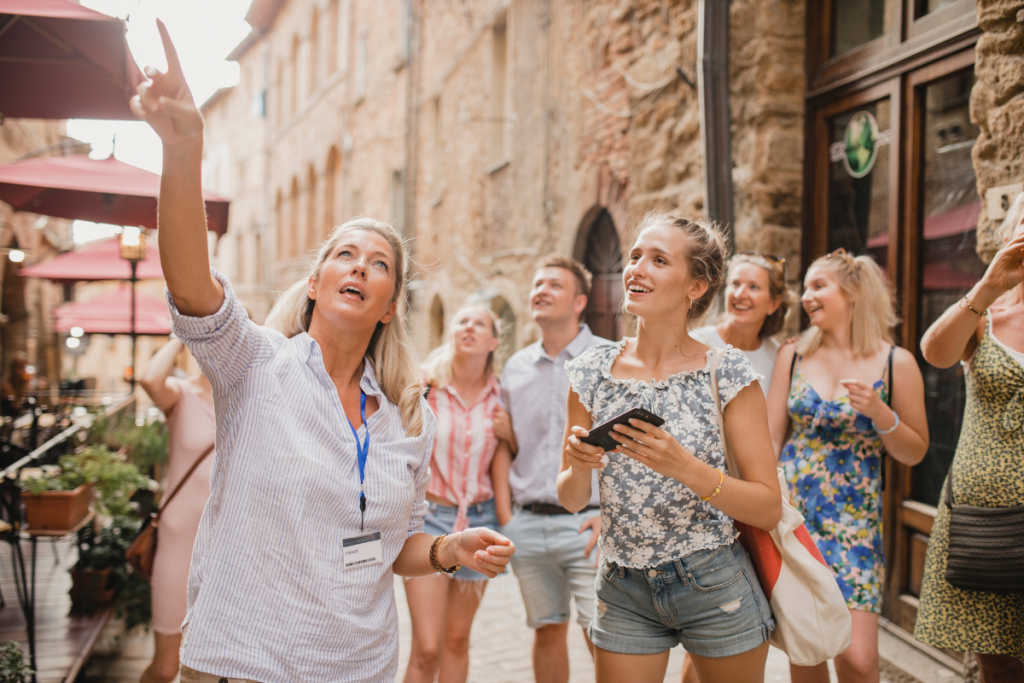 Socializing and Fun
Meet New People: Join a guided tour, and in no time, you'll have companions from around the world with whom you share unforgettable moments.
Unwind and Relax: How about a hassle-free evening cruise across the Nile? Or a VIP pass to explore the iconic Louvre at leisure? Well, guided tours can arrange such memorable experiences.
Valuable Insights
Your Questions Answered: Curious about how the Eiffel Tower was built? Or what makes the Great Wall so iconic? A knowledgeable guide is always there to answer your whirlwind of questions.
Insider Tips: From the best local cuisine to the secret alleys of a city, your guide knows all the secrets and is happy to share them with you.
Flexibility and Customizations
Solo or in Groups: Whether you're an independent soul seeking a solo journey or you're someone who enjoys group dynamics, guided tours can be tailored to your request.
Adapt to Changes: With a changing environment or customer preferences, guided tour schedules can adapt seamlessly, making it easy for you.
So the next time you think of how to see the world, remember this: the perks of guided tours are plenty. Why not give it a go and let your tour be the unforgettable saga of your traveler's tale?
What To Expect From A Guided Tour Of India
A typical Golden Triangle tour lasts about 7 to 10 days, depending on the additional places you want to explore and the local experiences you'd like to soak in.
Your guide will provide engaging narratives about the intricacies of Mughal architecture at the Red Fort and Humayun's Tomb in Delhi. Additionally, in Jaipur, your guided tour will introduce you to the art of block printing, gem cutting, and blue pottery. In Agra, expect nothing short of an awe-inspiring story behind the construction of the Taj Mahal.
Remember, a Golden Triangle tour isn't a one-size-fits-all vacation. With private guide options, you can customize your journey, whether making time for an impromptu photo session amidst Jaipur's pink constructions or tasting Delhi's famous street food in Chandni Chowk.
The Golden Triangle is not merely a tourist trail; it's a journey through time, offering you a peek into India's soul. This trip transcends the typical vacation, providing a unique travel experience that lingers long after you've unpacked your suitcase.
Join a guided tour today and start etching your own travel tales amidst India's vibrant colors, soothing rhythms, and compelling stories. Embrace the traveler within you, and experience the best of India's Golden Triangle – a complete, curated, and captivating chapter of your exploration story.