Are you planning a trip to China in the near future? If so, you may be dreading the inevitable long flight ahead. Don't fret – with these expert airport travel tips, you'll be able to survive your lengthy journey to the Middle Kingdom while also enjoying your time up in the air.
When preparing for your long flight, make sure you pack with the journey in mind. First, create a packing list that includes essentials like clothing, toiletries, and important travel documents. Then, pack a small carry-on bag with everything you might need for your time in the air.
Keep reading to discover the best ways to make your long flight as comfortable and stress-free as possible.
Pre-Flight Preparations
Just like careful planning makes a road journey smooth, preparing properly for air travel can save you time and stress. If you are flying to China, these strategic pre-flight preparations come in handy in turning your lengthy journey into an effortless experience.
Research Your Airline: Understanding your airline's rules and policies on long-haul flights is crucial for savvy flying. Familiarize yourself with luggage carry-on restrictions, and check their meals and in-flight services. This aids in strategic packing and ensures you're not faced with any unpleasant, overpriced surprises at the check-in counter.
Choose Your Seat Wisely: Seat selection is not something to disregard. While the best seats on the plane can vary from one airline to another, aisle seats on the front and middle of the aircraft are ideal for accessible bathroom and galley access. Utilize airline map tools to locate the best available center and prevent any hours-long discomfort during your flight to China.
Double-Check Your Documentation: Double-check your travel documents to avoid unnecessary stress during airport check-in. Ensure that your passport is up-to-date, and keep copies of all essential documents handy. A rule of thumb for international travelers is to have photocopies of your passport and travel insurance handy. Also, going to the airport a little earlier than usual eases your travel experience, allowing for any unforeseen hold-ups.
Manage Your Baggage: To win at navigating the airport, or indeed, any airport, efficient luggage packing is vital. Aside from abiding by the TSA's liquid rules, packing tips, such as rolling your clothes instead of folding, can give you extra carry-on bag space for souvenirs on your return trip. Also, consider using hacks you never knew, like packing an empty water bottle. You can refill post-security instead of buying overpriced water at the airport and keep hydrated on your long flight. Remember, having everything you need accessible helps you get through security faster and can aid in handling layovers with ease. To leave for the airport without anxiety, spare a thought to how you manage your luggage and its contents.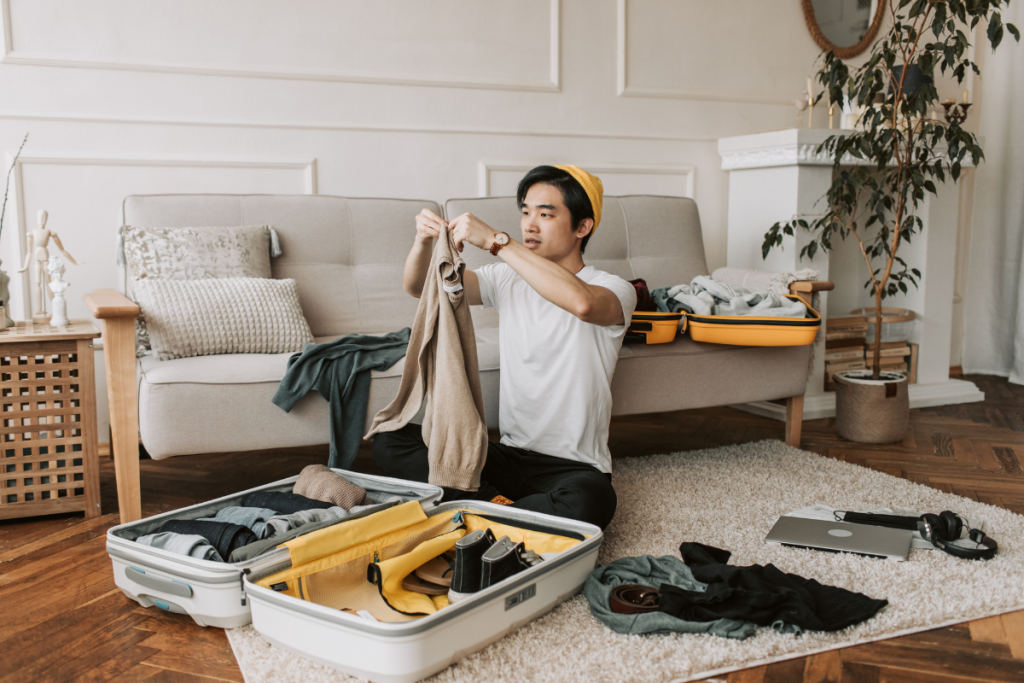 This pre-flight preparation will take the stress off your airport experience and make it an enjoyable beginning to your adventure in China. With these travel airport tips and hacks tucked up, you're on your way to a fantastic journey with Rogue Travelers.
On-Board Comfort and Health
Now that you're well-prepared and breezed through the airport security, it's time to focus on your inflight comfort and health. On long-haul flights like those to China, maintaining comfort and good health on board is paramount – you don't want to arrive at your destination feeling exhausted and sick.
Keep Hydrated: The air on planes is notably drier than what our bodies are accustomed to, leading to dehydration that manifests as dry skin and aggravates jet lag. Use the empty water bottle you brought on board, and don't hesitate to ask for refills from flight attendants. Keeping up with your hydration can make your travel experience significantly better.
Focus on Rest: Long flights are synonymous with cramped seating and awkward sleeping positions. Consider investing in a good quality neck pillow, sleep mask, and earplugs to make travel easier. These minor investments can pay dividends regarding sleep quality and overall in-flight comfort. And remember to leverage that 'do not disturb' sticker. It's there to ensure you get the rest you need.
Move Around: Periodic movement is critical on long-haul flights. Make it a rule of thumb to stand and stretch every couple of hours to reduce the risk of deep vein thrombosis (DVT). Simple exercises can have a significant impact on your health and overall comfort.
Remember, maintaining your onboard comfort and health may seem challenging, but with these tips and hacks, you're set for a more relaxed and pleasurable journey. So, when you're traveling next, remember these tricks to make your time in the clouds much more enjoyable. Here's to arriving refreshed and ready for the adventure in China. The intense exploration requires a flight that's not just bearable but delightfully comfortable.
In-Flight Entertainment
Whether you're a rogue traveler or a seasoned globetrotter, in-flight entertainment is a crucial aspect of long-haul trips, contributing significantly to your overall travel experience. Address your need for fun and diversion during your flight with these simple yet effective hacks:
Upgrade to Premium: In long flights, comfort equals happiness. Travel Airport tips and hacks often recommend an upgrade to premium. The cost might be higher, but the benefits often outweigh the expenses. The joy of extra legroom, access to airport lounges, superior service, and an extensive range of entertainment options can transform your travel days into an utterly relaxing retreat.
Download Entertainment: One of the best airport tips to help make your travel easier is to come pre-equipped with various offline entertainment. Before you leave for the airport, load up your devices with a menu of movies, music, and e-books – keeping different moods and whims in mind. This can be your life-saver, especially in case of patchy aircraft Wi-Fi or lack of power outlets for charging.
Pro tip: Check the airport website for information on flying and useful airport hacks, such as discounted airport parking or baggage fee reductions for premium upgrades. A rule of thumb for the intelligent traveler is to arrive at the airport a few hours before your flight, armed with all possible tips and tricks to make your journey smoother.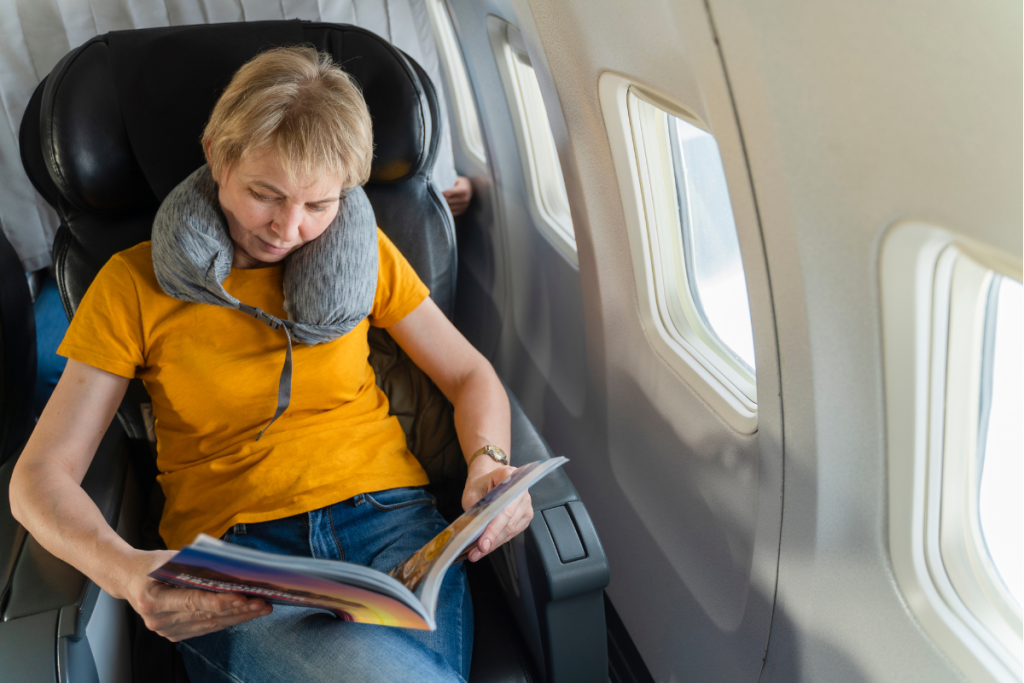 Managing Food And Dietary Requirements
One of the travel airport tips and hacks often overlooked is managing food and dietary requirements. But as any seasoned traveler would tell you, what you consume can significantly impact the quality of your travel experience. Let's help you crack the code:
In-flight Meals: Airline food is a recurring punchline in travel circles, but it is a different story on long-haul flights. Rule of thumb: understand the onboard meal plan and schedule. If you're traveling with dietary restrictions, it's best to inform the airline in advance – many carriers can cater to various needs. This is one of the top tips for flying, which, if well-managed, will alleviate any food-related anxieties ahead of your journey.
Carry Healthy Snacks: Airport food options are often overpriced and need to be more pleasing. Best airport tips suggest circulating the airport with your backpack full of healthy munchies instead of buying expensive meals. If packed properly, Granola bars, energy snacks, dried fruit, or even tiny bags of chopped fresh fruits should pass through the security checkpoint. Pro tip: bring an empty water bottle and fill it up after passing through security, saving on expensive water at the airport.
Remember, you'll be in transit for many hours when flying to China. A mix of suitable in-flight meals, healthy snacks, and plenty of water will ensure your body stays fueled and hydrated. Mastering this airport hack will make your long travel day a much more pleasant experience.
For more tips to help make your travel experience smoother, check the airport website for any exclusive services or discounts. Check out bag fees, a guide to using airport maps, and much more to make your airport experience less hassle.
Handling Layovers And Transits
Before you're flying to the other side of the globe, it's vitally important to manage layovers and transits effectively. Let's shine some light on this often-ignored topic:
Research Any Layovers: Regarding layovers, you're traveling through unknown territory, so your best travel airport tips always include doing some groundwork. Using airport maps, familiarize yourself with the layout of any stopover points before you leave for the airport. Reviewing reviews might give you a clue about what facilities are available and how easy it is to navigate your transit points. This will save you time and help you overcome any potential transit stress.
Consider Sleep/Rest Pods: When the next trip is long-haul and involves considerable layover durations, checking if your transit airport offers sleeping pods or rooms is worthwhile. One of the best airport hacks to make your travel more accessible, it can save you from that crick in your neck caused by trying to nap in those unforgiving airport chairs. But don't just bide your time in a sleep pod. If you have travel credit cards, check if they offer access to airport lounges, a tranquil space where you can relax, eat, or even shower. Plus, the bonus points can help lower those baggage fees.
Remember, the secret to stress-free travel isn't just about getting to the airport, checking in, and sliding through security checks. It requires a holistic approach, encompassing even factors like handling layovers smartly. Get through security faster, bring an empty water bottle, and be aware of airport parking options; there's a raft of airport experience-enhancing tips and hacks waiting to be deployed. Your long flight to China can be enjoyable. Your small efforts can significantly improve your trip, leaving you with the energy to explore the wonders of your destination when you arrive. Start making travel easier the next time you're flying.
Post-Flight Issues
When you think the challenging part is over after the hours-long flight, post-flight issues come knocking. Your best bet is to be prepared with some critical airport hacks:
Managing Jet Lag: One of the vital tips for flying across continents is to learn how to manage jet lag. A few practices can help readjust your body clock after a long-haul flight: Stay hydrated during your journey, power down electronic screens before sleep, and gradually adjust your schedule to your destination's time zone a few days before departure. These tips can make your transition smoother and counteract the fatigue of air travel.
Ensuring Smooth Transition: When you arrive at Beijing Capital International Airport or any other Chinese airport, it's equally important to familiarize yourself beforehand. Utilize airport maps, jet bridge details, and even pickup zones to make your transitions less frantic. The more you know, the better you'll be able to handle unexpected disruptions.
Remember, each traveler's journey and preferences might differ significantly. These are guidelines rather than absolute rules – always be prepared for any potential situation. Also, always remain vigilant about COVID-19-related precautions and procedures and adhere to them for a safe and trouble-free journey.