Traveling can recharge the soul and uplift the senses, and when it comes to a destination that offers both exotic beauty and affordability, Bali undoubtedly tops the list. This picturesque island in Indonesia has breathtaking landscapes, vibrant culture, and activities to enjoy without breaking the bank.
The magical island of Bali is a top-tier destination known for its breathtaking natural beauty, serene temples, world-class beaches, and vibrant nightlife; it's one of the best places to visit in Indonesia. Bali is the perfect place for travelers to experience a slice of paradise without breaking the bank. Here is my list of the top 10 places to visit in Bali on a budget.
Top 10 Travel Spots For A Vacation In Bali
Let me provide you with a roadmap to navigate this beautiful paradise on a budget. With these insights, your travel around Bali is set to be one of the most memorable experiences of your life.
1. Travel Destination — Ubud
Known as the cultural heart of Bali, Ubud is a must-visit for art and history enthusiasts. Here, you can explore the Ubud Palace, visit vibrant art markets, and enjoy traditional Balinese dance performances.
Ubud is the ultimate place to appreciate Bali's traditional art and culture. Stroll through the bustling markets, visit the Art Market for unique souvenirs, and take time to explore the galleries packed with the works of international and local artists. Don't miss the famous Monkey Forest, a world heritage site teeming with mischievous monkeys amidst ancient temples.
To get to Ubud, a place that'll make you feel like you've traveled back in time, the AGRABus is your affordable ticket.
It's tough not to be impressed by the centuries-old art in the local markets here. The Monkey Forest is a UNESCO World Heritage site you can't miss.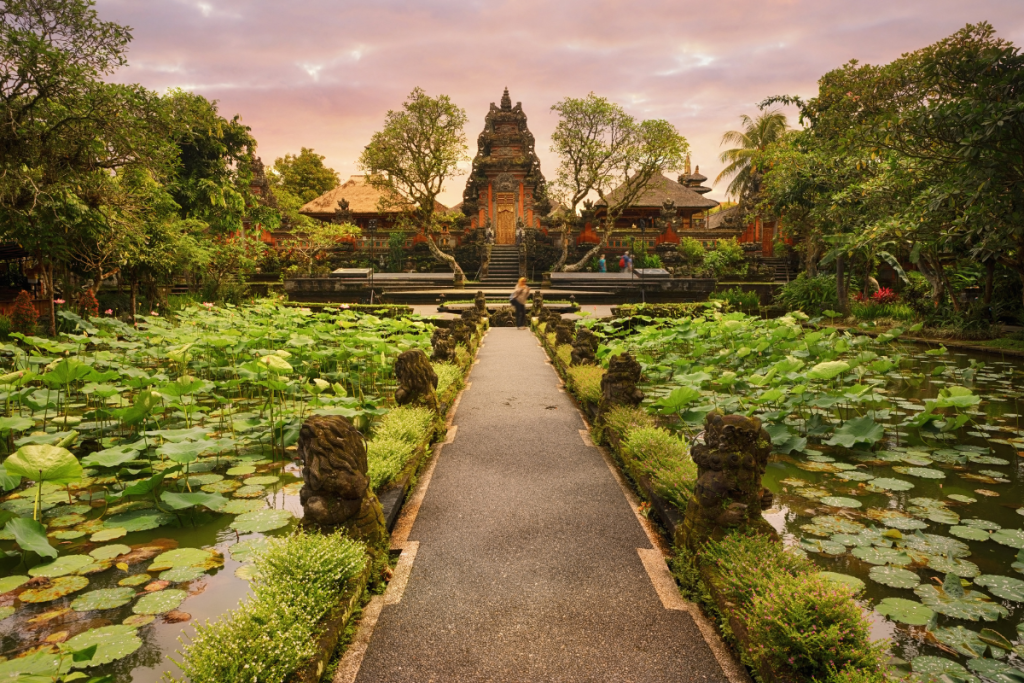 Travel Tip: Lunch spots overlooking the rice terraces offer delicious food with unbeatable views.
Travel Tip for next destination: Download the Bluebird Taxi app before your journey to Seminyak.
2. Seminyak
If your bucket list comprises glamorous beach bars and vibrant nightlife, Seminyak is the place for you. The bustling city of Seminyak offers an array of affordable boutiques, delicious street food, and hip bars. The city's colorful streets are free to explore.
Enjoy its white sand beaches, high-end restaurants, and boutique shops. The beaches are also a perfect place for surfing, while the evening promises a bustling party atmosphere.
Getting a Bluebird Taxi is as easy as pie and will take you straight to Seminyak.
Picture sipping a cold drink on one of the best beaches while watching surfers catch wave after wave. As the sun dips, the nightlife here kicks up a notch.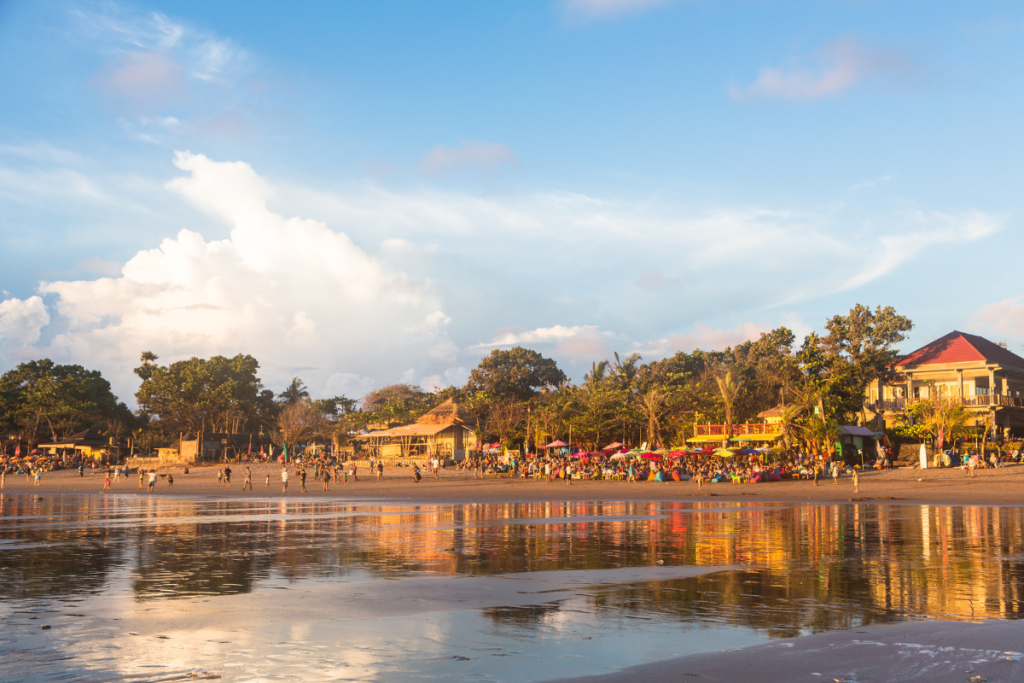 Travel Tip: For retail therapy, visit Seminyak Square Shopping Mall for a wide range of merchandise.
Travel Tip for next destination: As Perama shuttle bus station is about 2.5 km from Seminyak, hiring a taxi to the bus station would be a time-saving move.
3. Nusa Dua
Nestled on the eastern coastline of Bali, the white sand beaches of Nusa Dua offer the perfect escape from the bustle of the mainland. Play a round of golf or snorkel in the crystal clear waters. The year-round sunny weather makes this spot a perfect place to unwind.
A Perama shuttle bus will take you straight to Nusa Dua.
Everyday feels like summer here. Spend your time snorkeling or simply soaking up the rays on these sunny shores.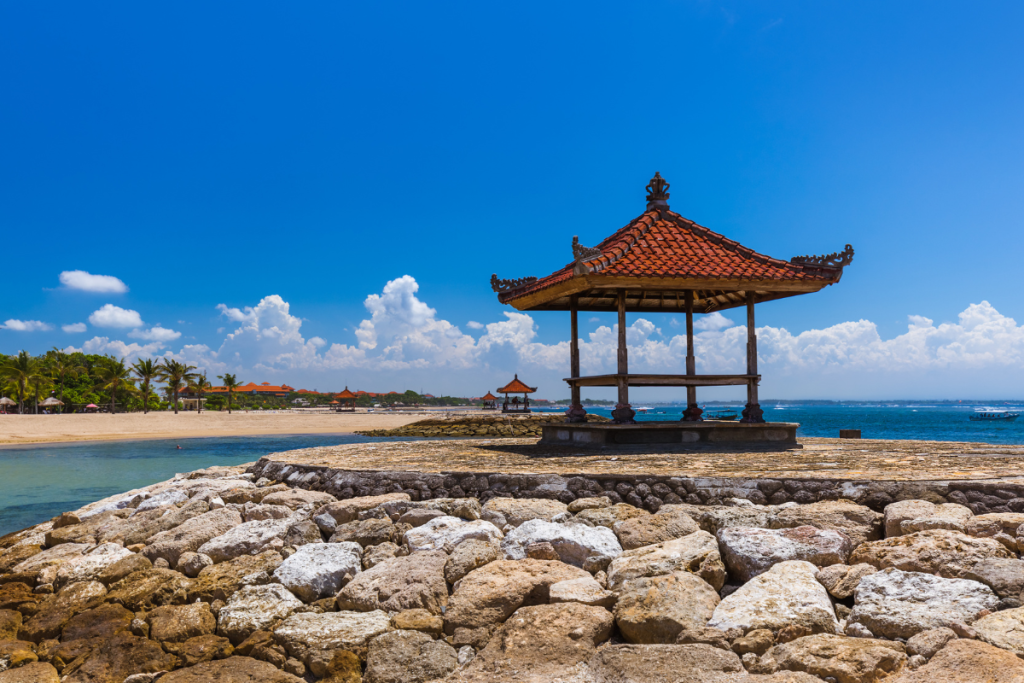 Travel Tip: Don't miss out on the Water Blow Hole spectacle, where waves crash into the rock caverns, resulting in a large water sprout.
Travel Tip for next destination: A shuttle from your Nusa Dua hotel may be convenient and reasonable to reach Sanur.
4. Sanur
Sanur offers a low-key coastal experience. You will find a laid-back atmosphere unlike any other place in Bali. Take a leisurely stroll down the beachside path, enjoy a spectacular sunrise, or simply relax on the golden sands.
A Bemo, or a public minivan, is one of the most wallet-friendly ways to get to Sanur.
Trade in hustle and bustle for the calming sound of waves if you fancy a tranquil morning stroll.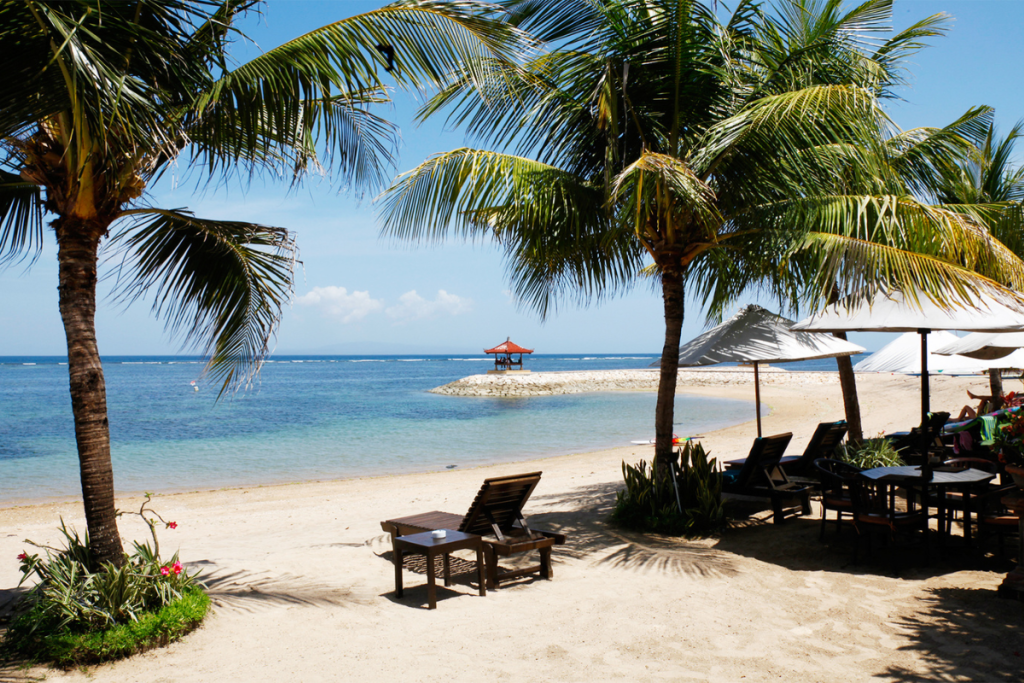 Travel Tip: Visit on a Sunday for the local weekly market for a true taste of Balinese culture.
Travel Tip for next destination: Pre-book your shuttle bus tickets for the West Bali National Park to avoid last-minute availability issues.
5. West Bali National Park
For all nature lovers, the West Bali National Park boasts a range of endangered species and offers a tranquil getaway from the hustle and bustle. The park's natural beauty comes from mangrove forests, dense jungles, and vibrant coral reefs. It is an ideal place to take a hike or snorkel year-round.
Grab a Perama shuttle bus and a local taxi to get to this natural paradise.
With coral reefs and many critters fluttering about, this National Park is straight out of a nature documentary.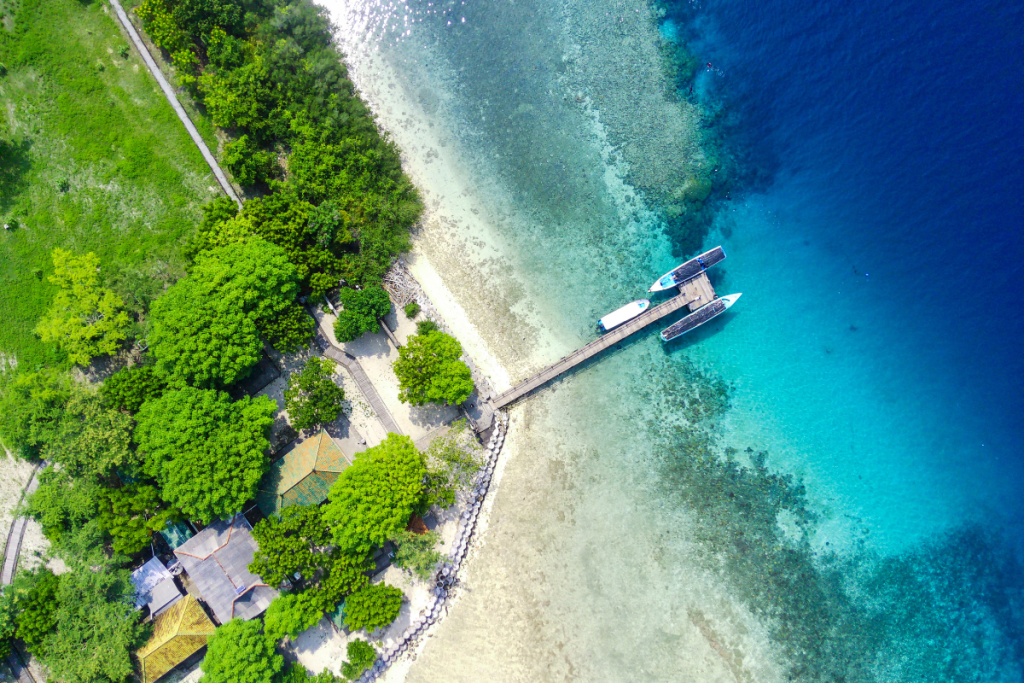 Travel Tip: Don't forget your binoculars for bird watching!
Travel Tip for next destination: After returning to the bus station from the Park, consider hiring a car for a comfortable trip to Uluwatu Temple.
6. Uluwatu Temple
This sea temple rests on a steep cliff 70 meters above the roaring Indian ocean. Visit the Uluwatu Beach nearby, famous for its pristine beauty and giant waves, which are perfect for pro surfers. Perched high on top of a towering sea cliff, the Uluwatu Temple is one of Bali's most iconic landmarks and a must-visit on every traveler's checklist. Capture one of the most breathtaking sunsets here.
A motorbike or car hire will drop you at the Uluwatu Temple, perched on rugged cliffs.
Just imagine the Insta-worthy sunset photos with the temple in the backdrop.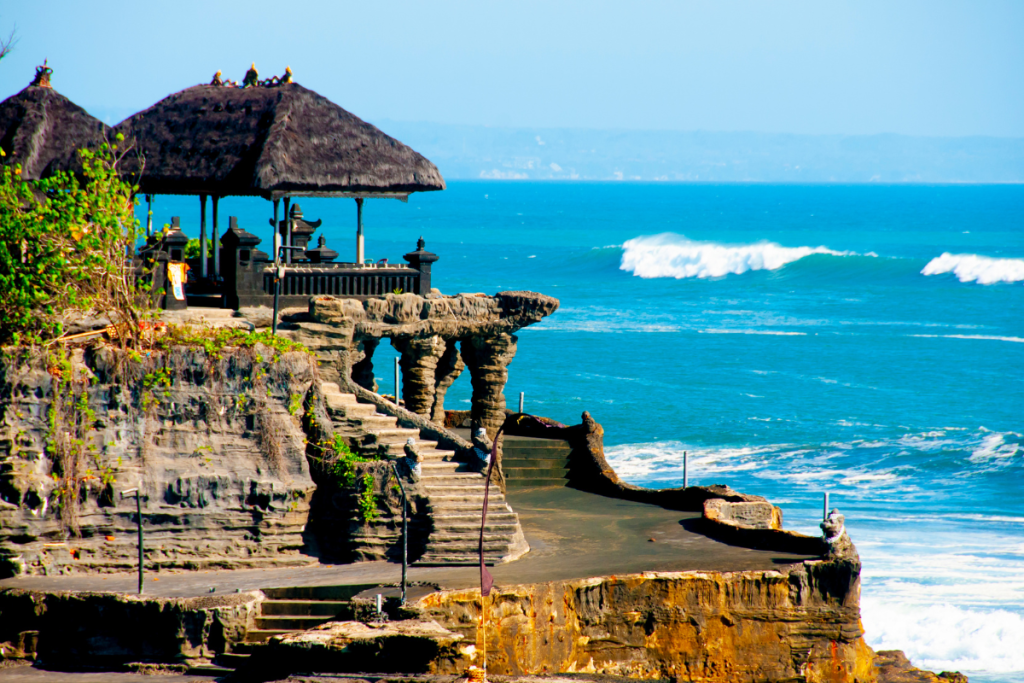 Travel Tip: The traditional Kecak fire dance performed here every evening is a must-watch.
Travel Tip for next destination: You might find hiring a Bluebird taxi to be the best way to get back to the hustle and bustle of Kuta Beach.
7. Kuta Beach
If you are a beach lover, Kuta Beach will surely top your list. Perfect for surfers, sunbathers, and sea spectators alike, this spot offers beautiful views and bustling nightlife. Famed for its world-class surfing conditions, Kuta Beach is undoubtedly one of Bali's most popular beaches.
During the day, it's all about surfing. You can hire a surfboard for a modest fee and ride the waves to your heart's content. But as night falls, it turns into a vibrant hub of nightlife with stylish bars and beach clubs.
A short taxi ride will take you to Kuta Beach—pearly white sands included!
Chill by the beach all day, and then dance the night away. It's a dream come true for beach bums and party animals alike.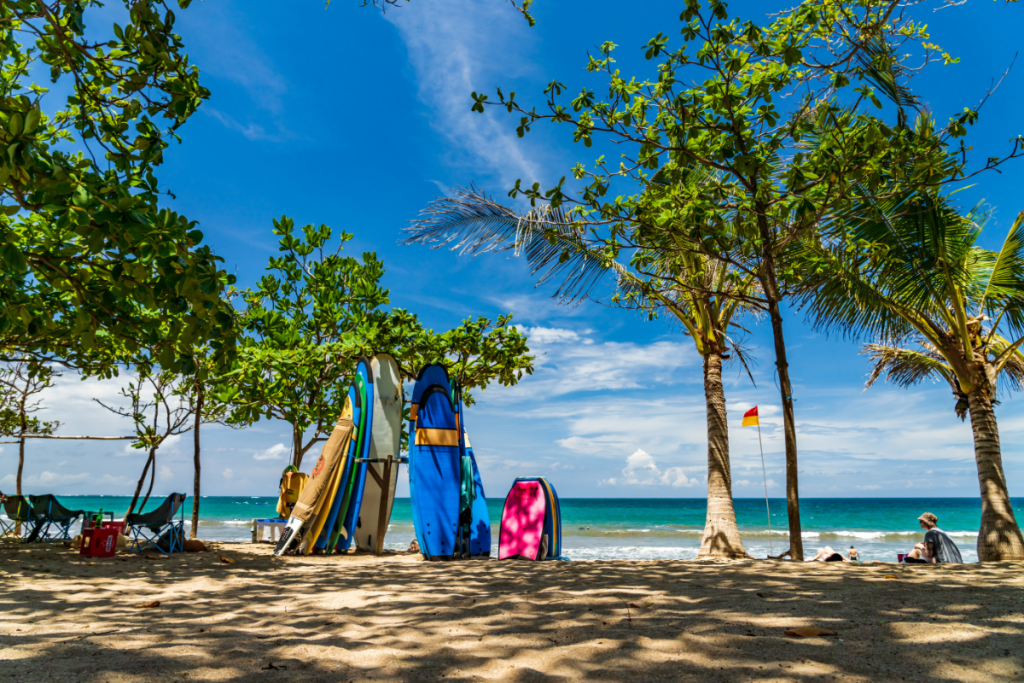 Travel Tip: Watch out for pickpockets in this crowded area.
Travel Tip for next destination: A guided tour package might be a cost-effective and hassle-free way to explore Kuta and the Tegallalang Rice Terraces.
8. Tegallalang Rice Terraces
No trip to Bali would be complete without a visit to the magnificent Tegallalang Rice Terraces. It's a world heritage site, and its stunning landscape of intricately carved rice paddies makes it a hotspot for photographers across the globe.
Rent a motorbike or bicycle to get to Tegallalang without burning a hole in your pocket.
Undeniably one of the most jaw-dropping views you'll find on the planet. Trust me, your camera roll isn't ready for this.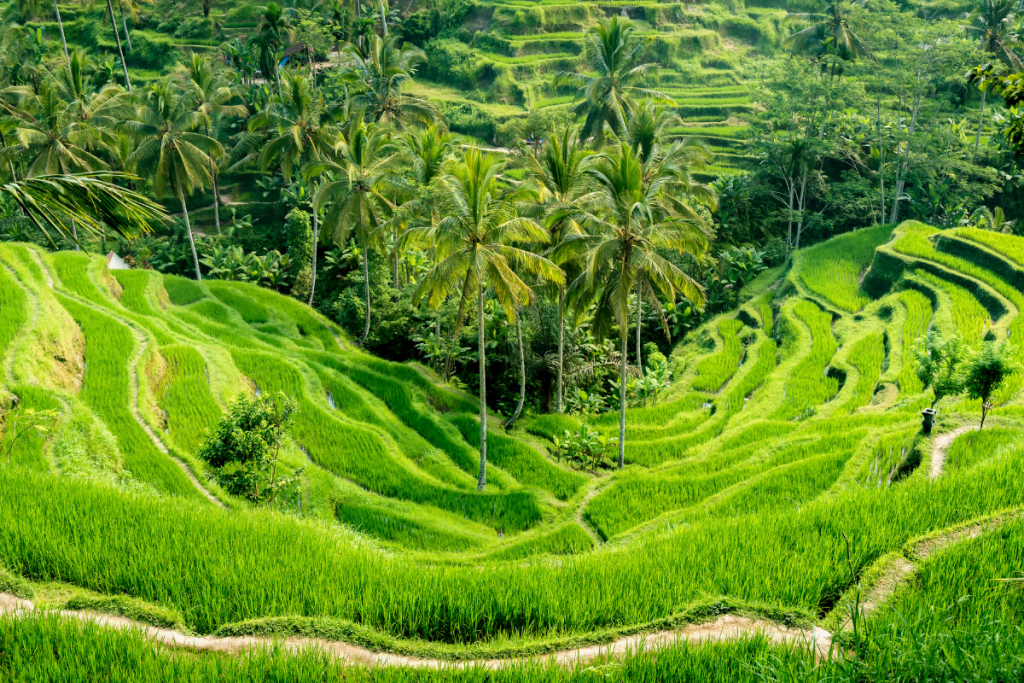 Travel Tip: Bring plenty of water and sunblock, as it can get quite hot in the mid-day sun.
Travel Tip for next destination: For a chilled-out and slow-paced commute, rent a bike and ride the short distance to Tirta Empul Temple.
9. Tirta Empul Temple
Immerse yourself in a unique, spiritual cleansing at Tirta Empul Temple. Known for its holy spring water, locals and tourists flock to this temple for ritual purification.
Getting to the Tirta Empul Temple is a breeze, thanks to the public bus or cheap taxi options.
Head here if you're a history buff or want to unwind in hot springs believed to have healing powers.
Travel Tip: Dress modestly, as this is a sacred religious site for locals.
Travel Tip for next destination: Arrange a taxi or ride-share to take you to the Gitgit Waterfall while you relax and take in the views.
10. Gitgit Waterfall
Marvel at Bali's tallest waterfall, the Gitgit Waterfall. The sound of gushing water against the tranquil backdrop of the jungle makes it the perfect place for reflection.
The Gitgit Waterfall can be your next destination aboard a local bus or rented motorbike.
Come prepared for breathtaking views, fun picnics, and refreshing swims.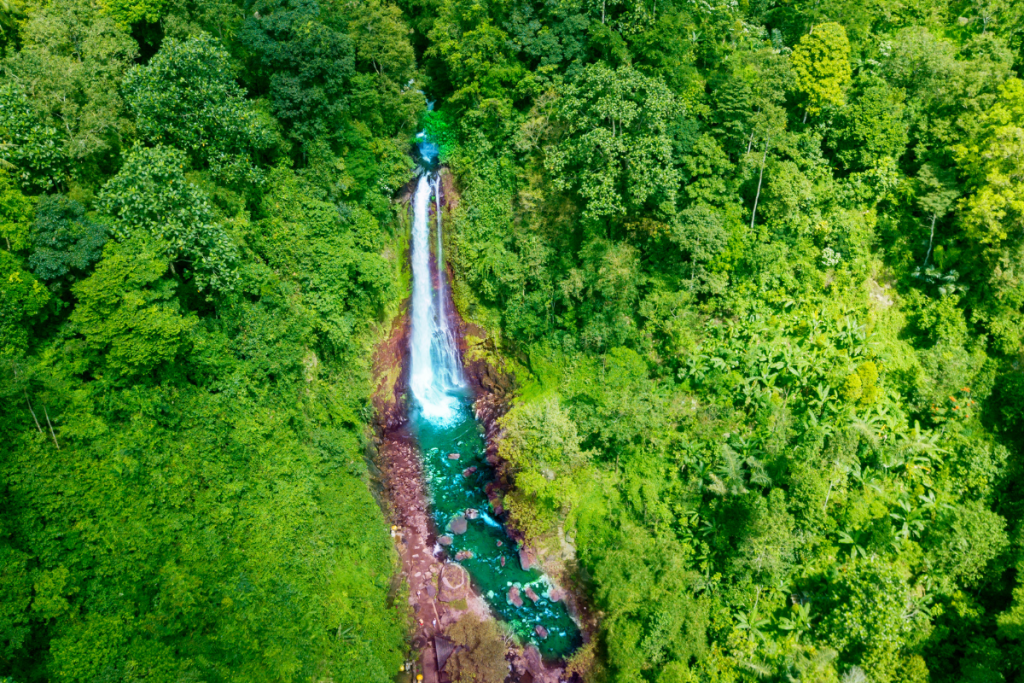 Travel Tip: This spot can get crowded, so plan your visit early in the day for a more peaceful experience.
Travel Tip for next destination: As Gitgit is in the mountains, a hired car or a shared van tour back to your hotel in Ubud or other locations would be more comfortable and safer.
No matter where on this charming island you end up, remember to enjoy the journey. Seeing the sights is fun, but don't forget to get travel insurance to protect yourself from any hiccups along the way.
Be open to whatever comes your way. Perhaps you'll find delight in chatting with locals or discovering hidden gems off the beaten track.
Here's to an adventure that makes you fall in love with the world, one destination at a time!