Lying in the heart of the Pacific Ocean, the tropical paradise known as French Polynesia beckons to couples seeking both relaxation and adventure. Comprised of 118 islands, French Polynesia is a place of untamed beauty, where shimmering blue lagoons nestle against lush, cloud-topped mountains. The islands' culture, defined by a fusion of French sophistication and Polynesian charm, further enhances its allure.
French Polynesia is a portal into unspoiled natural beauty from the sprawling mountainous landscape in Tahiti to the crystal-clear waters of Bora Bora. Take a stroll with your partner on the seemingly endless white sand beaches, or charter a boat to explore the majestic underwater world of coral reefs and brightly colored marine life. Scuba diving and snorkeling are popular activities that allow you to immerse yourself in this extraordinary aquatic environment.
Don't be surprised if you are on a jet ski tour in the lagoon of Bora Bora or hiking trails leading to Tahiti's awe-inspiring waterfalls. The islands' diverse ecosystems provide a wide range of activities and sights sure to fulfill the tastes of every explorer.
French Polynesia's Natural Beauty – Bora Bora
If you're searching for the ultimate vacation spots for couples, French Polynesia, an archipelago composed of 118 scenic islands, beckons with a promise of idyllic landscapes and tranquil seclusion. Nestled in the heart of this paradise is Bora Bora, a majestic crown jewel that makes the perfect vacation spot for a couple's getaway.
Bora Bora is synonymous with luxury and romantic indulgences. Picture limestone villas set above a vivid turquoise lagoon, snug beaches tucked away amidst lush greenery, and unforgettable live music performances that mirror the island's rich culture. This is Bora Bora — perfect for the best romantic weekend getaways, a couple's vacation, or a rejuvenating spa escape.
Packing Guide for Bora Bora
While this secluded enclave offers nearly everything you need, packing the appropriate attire and essentials can make your stay even more pleasant. Here's what you'll need:
Light clothing: Think flowy dresses and lightweight shirts for exploring and basking in the island's tropical climate.
Swimsuits: They are a must for snorkeling explorations in the pristine lagoon.
Reef-friendly sunblock: Sun protection that respects the marine ecosystem is key.
Walking/hiking shoes: Useful for island tours or jeep safaris.
Beach bag and hats: Perfect for beach outings or a quaint picnic.
Formal wear: Necessary for splurge-worthy dining experiences at renowned boutique resorts in Bora Bora.
Tips for Flying to Bora Bora
Flying to Bora Bora is part of the romantic escape. Here are some tips to make your journey as enjoyable as possible:
Advance booking: It's crucial to book your tickets well in advance to secure the best routes and fares.
Route selection: Airlines such as Air Tahiti Nui offer convenient connections from global hub cities.
Baggage: Always pack a change of clothes in your carry-on, just in case.
In-flight care: Bring a nourishing lip balm and remember to stay hydrated. It's the best way to beat jet lag!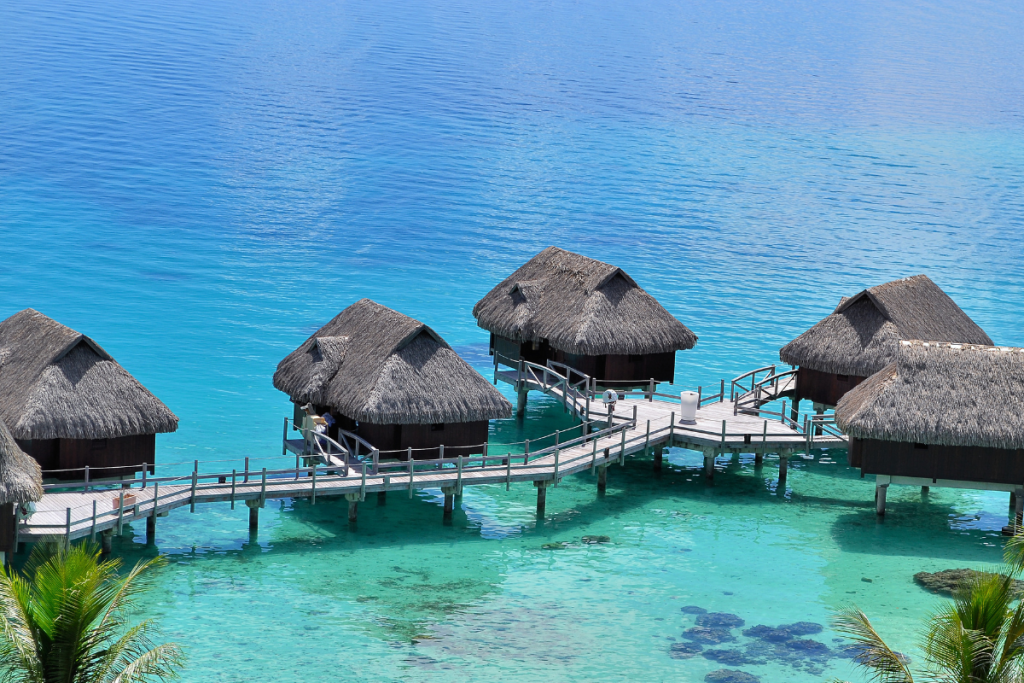 Things to Do in Bora Bora
In Bora Bora, you'll find a fantastic fusion of water-based, land-based, and cultural activities to round off your couple's getaway. Here are some to consider:
Water-Based Activities: Jet Ski tours, snorkeling adventures, and romantic sunset cruises.
Land-Based Activities: Try a 4×4 tour, hiking trails, or watching the sunset from Mount Otemanu.
Cultural Immersion: Engage in village tours, pearl farm visits, or traditional Polynesian cooking classes.
Spa Retreats: Luxury wellness experiences are the cornerstone of Bora Bora's resorts, where traditional treatments offer transcendental relaxation.
French Polynesia captivates with its natural beauty, leisure activities, and charming culture —and nowhere is it more vibrant than in Bora Bora, arguably one of the best vacation spots for couples seeking a romantic vacation in paradise. Let Rogue Travelers guide you to this unspoiled haven and make your vacation dreams a reality.
Tahiti – The Heart Of French Polynesia
When planning the best vacation spots for couples, no list would be complete without Tahiti — the heartbeat of French Polynesia. This jewel in the Pacific Ocean is an idyllic romantic escape that rivals the 25 best destination contenders worldwide.
From exploring UNESCO World Heritage sites to taking a luxurious couples massage against the backdrop of beautiful beaches, Tahiti is teeming with attractive offerings for couples. Imagine a romantic dinner at the beach, serenaded by local musicians as the sunset paints the sky with stunning hues — this is the enchanting allure of Tahiti.
Packing Guide for Tahiti
Tahiti's variable climate and array of outdoor escapades warrant an intelligent packing list. Here's a quick guide:
Light clothing: Perfect for warm, tropical days.
Swimsuits: Essentials for dips in the lagoon.
Reef-friendly sunblock: Don't forget to protect yourself and Tahiti's beautiful coral reefs.
Walking/hiking shoes: There are many trails to explore.
Beach bag and hats: Beat the sunny weather comfortably.
Formal wear: For romantic dinners and exclusive resort entertainment.
Tips for Flying to Tahiti
Traveling to Tahiti should be as enjoyable as your stay. Here are some tips:
Advance booking: Grab attractive flight and accommodation deals by booking in advance.
Route selection: Leading airlines like Air France and Air Tahiti Nui connect to Tahiti via several key cities.
Baggage: Keep a set of clothes in your carry-on for emergencies.
In-flight care: Staying hydrated will help you beat jet lag and arrive in Tahiti ready for your romantic escape.
Things to Do in Tahiti
Tahiti opens up a world of water and land-based activities, plus cultural immersion opportunities:
Water-Based Activities: Include snorkeling, scuba diving, and surfing at some of the world's best spots.
Land-Based Activities: Horseback ride along the island's coast, or modify your romantic trip with a jeep safari.
Cultural Immersion: Visit the bustling market at Papeete, watch a traditional Tahitian dance, or take part in a cooking class.
Spa Retreats: Try rejuvenating treatments at upscale resort spa facilities.
Tahiti is a perfect locale for couples who like to mix relaxation with adventure. A horseback ride along the coast, a refreshing plunge pool experience, or a scenic hike hand in hand, this U.S.-favored romantic destination has it all. From the romantic setting to the best restaurants offering delectable Polynesian flavors, Tahiti is a great vacation spot for couples who want to experience a unique blend of tranquility and captivating activities. If you're looking, trust us: Tahiti and its favorite spots are the perfect destination for couples to make lasting memories. Enjoy your romantic trip to this scenic paradise, which is home to one of the most beautiful locales, and plan a romantic weekend getaway that you will cherish forever.
Sharing Moments In Seclusion
Discover why French Polynesia often takes the top spot as the perfect vacation spot for couples, with its secluded islands offering an ideal privacy haven for couples planning their getaway in 2023 and beyond.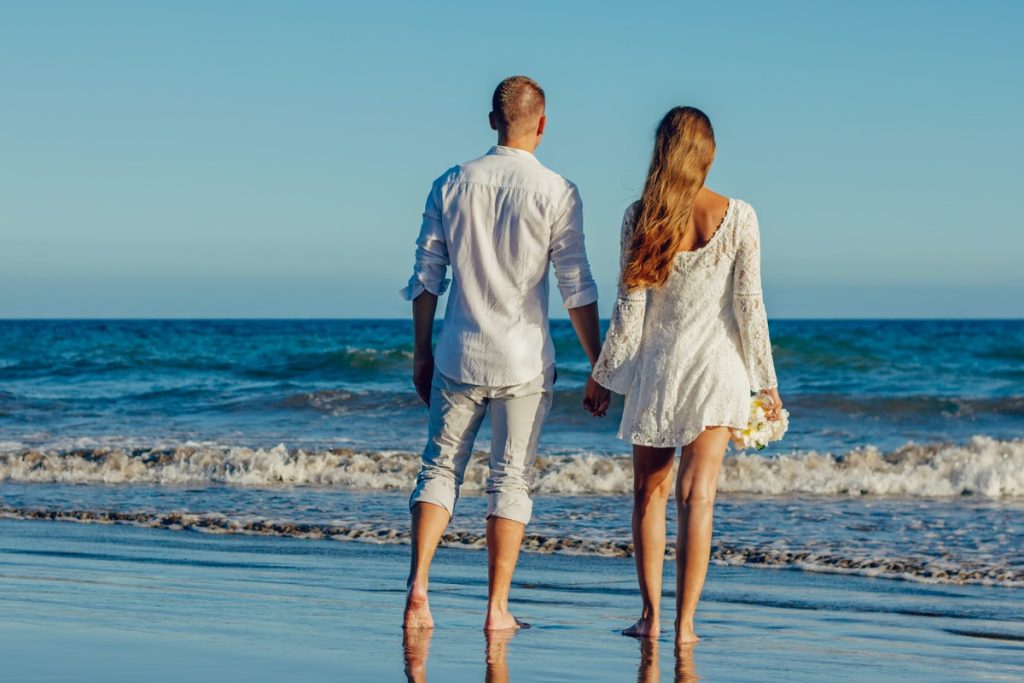 Private Strolls: Hand-in-hand, explore secluded beaches or quaint trails for that ultimate romantic stroll.
Luxurious Retreat: Retreat to secluded boutique villas with rooftop terraces overlooking picturesque lagoons.
Unique Accommodations: Luxurious boutique hotels are strategically located on the beachfront complete with rooftop views, offering the perfect seclusion for a couples' vacation.
Spa Sessions: Indulge in tranquil spa sessions, the perfect chance to unwind and reconnect.
Water Adventures: Dive under to snorkel and marvel at the natural beauty beneath the waves.
Picnic by a Waterfall: For that one-of-a-kind romantic experience, have a picnic at one of the stunning waterfalls.
Culinary Delights: Splurge on a fancy dinner in any of the resort's wineries, complete with live music and enchanting ambiance.
French Polynesia, with its extraordinary allure, provides an exceptional romantic experience. Celebrated for its majestic seclusion, luxurious offerings, and natural beauty, it's no wonder this destination outshines all when it comes to vacation spots for couples.
Look no further than French Polynesia for couples seeking the paradise vacation spot. Unwind in the tranquility, seek adventure in the vastness, and lose yourself in the vibrant culture of French Polynesia – a true tropical nirvana!