Dubai is an alluring oasis that mixes modern culture, history, adventure, and world-class shopping and entertainment. It's a city of contrasts and surprises with its traditional souks, towering skyscrapers, unfathomable luxury, and endless deserts.
Emerging as one of the world's foremost luxury destinations, this city provides a unique mix of attractions for everyone. To get the most out of your next Dubai adventure, we've gathered some priceless travel tips from experienced agents who know the city inside out.
Tips On The Best Time To Visit
Imagine strolling around Dubai without the scorching heat – sounds like a perfect vacation, right? Your trusted travel agent at Rogue Travelers recommends planning your visit from October through April for maximum enjoyment. Here's why:
Comfortable Clime: Winter months gift Dubai with a pleasant temperature. A cool breeze will embrace your outdoor activities, whether it's a beach day or exploring the city's architectural marvels.
Festive Fervor: Winter in Dubai offers agreeable weather and iconic events such as the Dubai Shopping Festival and the Dubai Jazz Festival. With Rogue Travelers as your travel agents, your reservation will be well-timed to soak in the fun.
Ample Adventure: Winter opens up the city for various outdoor pursuits. Be it desert safaris or waterfront dining, adventures are plentiful.
When your agent goes that extra mile to ensure your vacation becomes unforgettable, tip them out of gratitude. Their dedication goes beyond commission, promising your Dubai travel dream becomes a reality. Start with Rogue Travelers today.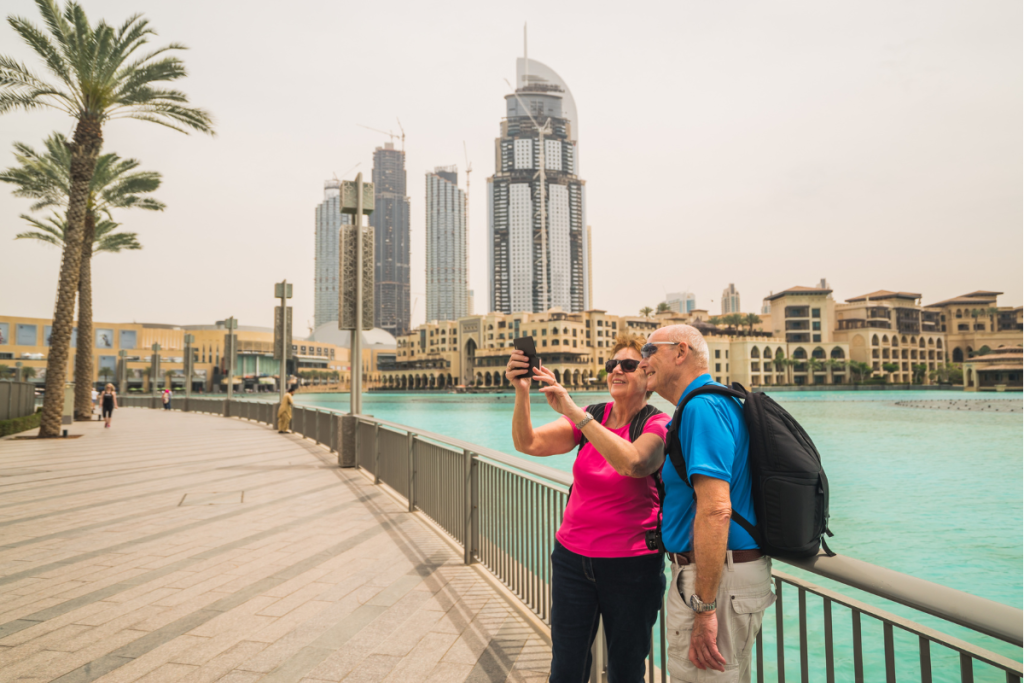 Choose The Right Accommodation
Dubai offers a diverse range of stay options to suit your preferences. Rogue Travelers can assist you in finding the perfect accommodation, whether you're after luxurious settings or budget-friendly alternatives.
Luxury Hotels: For those into grandeur, Dubai's upscale hotels present unforgettable experiences, exceptional service, world-class amenities, and unrivaled views. Remember the tipping etiquette in Dubai to elevate your experience further. Small gifts like a bottle of wine, chocolates, or a thank-you card can contribute to the positive tipping culture.
Budget Apartments: For the cost-conscious traveler, apartments provide an intimate peek into Dubai's local life. Fully equipped, these lodgings are excellent for extended stays. Tipping etiquette still applies; consider offering a small token to housekeeping staff for their assistance.
Tips for selecting a strategic location based on your travel needs
The location is as crucial as the accommodation itself.
Proximity to attractions can streamline sightseeing and enhance your trip satisfaction.
Partner with Rogue Travelers to arrange the ideal accommodations for you, allowing you to focus on enjoying your getaway rather than planning it.
Lastly, don't forget to thank the tireless service providers that make your journey memorable. Leave a positive review, give a referral, or even consider tipping the travel agent extra to acknowledge their hard work. Travel agents may earn a commission, but your thoughtful gestures remind them they are truly valued. Choose Rogue Travelers for a seamless Dubai adventure.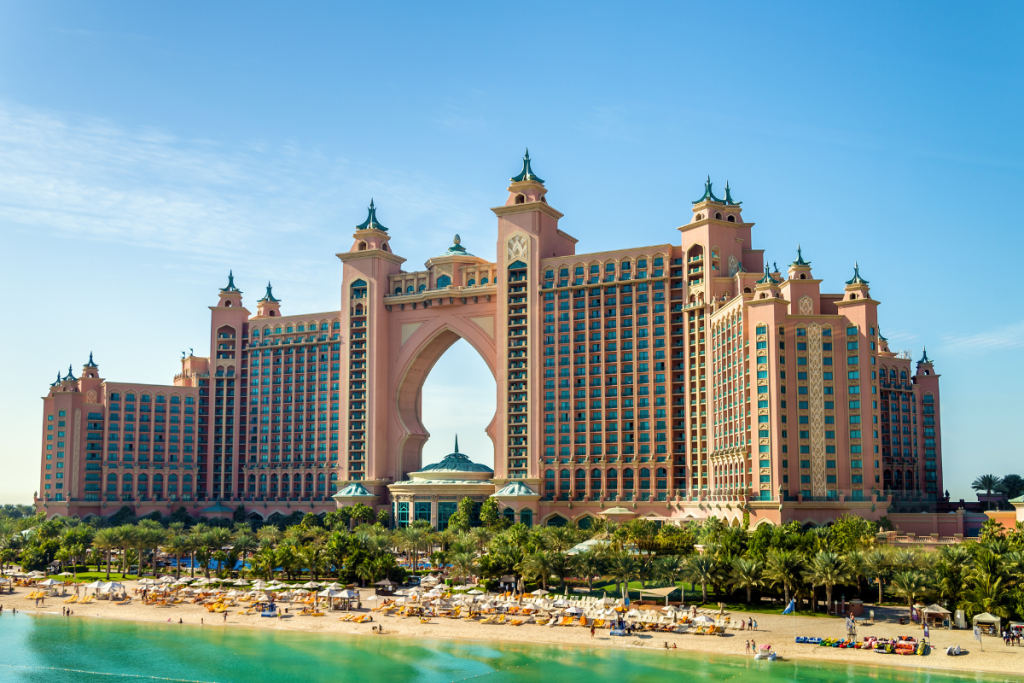 Apply For The Proper Travel Documentation
Navigating visa requirements can be tricky, but the Rogue Travelers team is here to help you unlock the doors to your Dubai adventure.
Information on visa requirements for different nationalities:
Visa requirements vary by nationality.
Some travelers enjoy visa-free entry, while others need to apply in advance.
Let the experienced Rogue Travelers agents guide you through the process, ensuring a smooth and stress-free experience.
Steps to follow for a hassle-free visa application:
Use Rogue Travelers' insider knowledge to handle your visa application, minimizing headaches and complications.
Provide necessary documentation, such as proof of return travel and hotel reservations.
Why tipping your travel agent is a good idea:
They earn a commission, but an extra tip shows gratitude for their invaluable assistance.
A small token of appreciation proves you value their dedicated expertise.
Remember, a successful vacation starts with careful planning. Allow Rogue Travelers to navigate the intricate world of visas while you relax and look forward to an unforgettable Dubai vacation. Visit Rogue Travelers to start your journey today.
Happy travels!
Make Reservations For Popular Attractions In Advance
When in Dubai, certain attractions are an absolute must:
Catch the breathtaking panorama from the Burj Khalifa,
Soak in the glitz at the Dubai Mall, and
Marvel at the innovative Palm Jumeirah.
All these spellbinding attractions come with long queues. Here's how the expertise of your Rogue Travelers agent can make your visit seamless:
Leverage their expertise to secure your spots at these sought-after sites.
With such exceptional service, deciding to tip the travel agent becomes a no-brainer!
In Dubai's tipping culture, a small token of gratitude can have a big impact.
Booking Tips
When it comes to booking, the team at Rogue Travelers can offer you insider techniques.
They advise avoiding round numbers – 15-20 minutes before or after the hour could lead to less crowded slots.
These tips not only make your trip unforgettable but also acknowledge the professional service of your travel agent.
Remember to express your gratitude beyond the customary tip. A small gift, a positive review, or a handwritten thank you card adds a personal touch. These tokens of appreciation help Rogue Travelers shine in their profession, earning them referrals and positive feedback.
Be a pro, plan, and book your next trip to Dubai with Rogue Travelers today.
Consider Hiring A Local Tour Guide
The insights of a local tour guide enrich an adventure in Dubai. At Rogue Travelers, we understand the value a local guide adds to your travel experience:
They serve as your human guidebook, living history lessons, and secure insider connections.
Trust Rogue Travelers to recommend tour guides who are not just narrators but passionate storytellers steeped in local wisdom.
Booking a guide is essential, adding depth and cultural richness to your vacation.
Top Tour Operators in Dubai
In Dubai, the Rogue Travelers team connects you with the best:
We maintain exclusive tie-ups with top tour operators in Dubai, matching you with the best options suited to your interests.
Remember, we do more than just earn a commission; we're your partners in making your travels extraordinary. Trust Rogue Travelers to arrange your rendezvous with Dubai's spirit.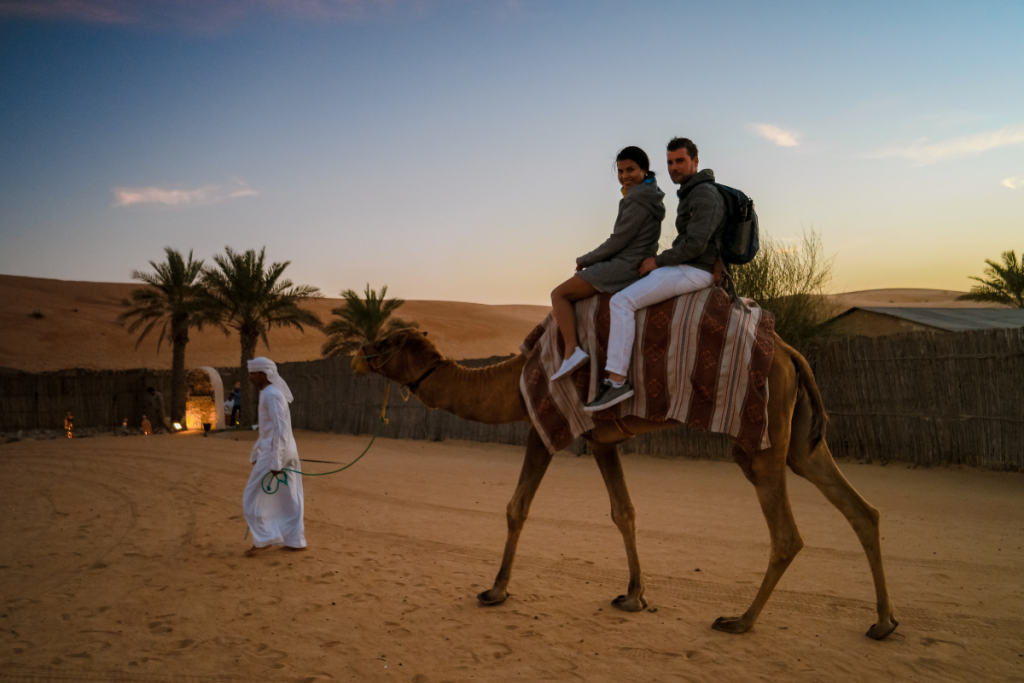 Gratitude For Your Guide
Appreciating your local guide goes beyond just their in-depth knowledge and personalized service:
Customary tips demonstrate gratitude for their passion and efforts to make your journey memorable.
Hiring a local tour guide enhances your travel experience, supports the local economy, and helps keep cultural heritage alive.
Explore Rogue Travelers to benefit from local tour guide reservations and more, or learn more about us to see why we're the preferred choice for many travelers.
Explore The Local Culture
Immerse yourself in the local culture of Dubai by savoring the best Emirati cuisine. Doing otherwise would be akin to buying a book and not reading it. Spice up your vacation with a culinary adventure that includes:
Starting with Al Harees,
Savoring Machboos and
Ending on a sweet note of Luqaimat,
These dishes are the essence of traditional Emirati cuisine. The Rogue Travelers can share insights and recommend the best places to relish these culinary delights based on their extensive local knowledge.
Respect Cultural Norms And Etiquette
As you relish the allure of Dubai, a cosmopolitan paradise, remember to respect its deep-rooted Islamic traditions:
Dress modestly,
Refrain from public displays of affection, and
Respect religious customs, especially during Ramadan.
Make your travel dreams come true with Rogue Travelers. Learn more about how they can personalize your tour on their website.
Save Money With Travel Packages And Discounts
Discounts and deals sweeten any getaway experience. Trust the Rogue Travelers to help you find the best options:
Airlines and hotels often roll out attractive packages. Being privy to these deals is one of the many perks of working with us.
Our agents work hard to arrange better standards of accommodation or flight at more palatable prices, ensuring a seamless travel experience.
Getting around Dubai needn't be expensive. Our team will provide money-saving tips:
Discover the cityscape from the metro or enjoy a quaint abra boat ride across Dubai Creek. It's not just about saving some dirhams; it offers a unique perspective of Dubai.
Use tourist discount cards for various attractions. Our agents will suggest the best options.
Remember, our agent's valuable advice is worth every penny. At Rogue Travelers, we go above and beyond to make your trip unforgettable while keeping your finances comfortable.
Staying Safe And Secure In Dubai
Exploring Dubai is exhilarating, but being aware of common safety concerns is vital:
Be mindful of heatstroke, stay hydrated, and protect your skin from the sun.
Petty crime and scams are rare, yet being cautious is always wise. Trust your Rogue Travelers agent's insight to keep you safe.
Guard Your Well-being And Scam Prevention
Dubai is a safe destination, but adhering to some travel rules is essential:
Avoid flashing cash or expensive items.
Be cautious while using ATMs. Your hotel will often have a secure one.
If a "deal" sounds too good to be true, it probably is.
Rely on Rogue Travelers to guide you in making safe reservation choices for sightseeing tour companies and restaurants.
The value of your travel agent's advice extends beyond hotel bookings and destination choices; it's also about keeping you secure and making your journey hassle-free. Trust Rogue Travelers to help you make the most of your Dubai adventure or learn more about us.
Other Tips From Experienced Travel Agents For Your Next Dubai Adventure
From exploring local cultures and securing discounts on travel packages to guaranteeing personal safety, the tip of an experienced tip travel agent can turn a vacation into an unforgettable adventure. These professionals are committed to finessing every detail of your Dubai experience, ensuring comfort, excitement, and a truly immersive journey into the heart of this glittering oasis.
Remember, a travel agent's expertise extends beyond hotel reservations and generic travel tips. They delve deeper, cultivating an itinerary tailored to your tastes and interests. They're your cultural ambassador, security advisor, and budget planner rolled into one. They offer a seamless fusion of your adventure dreams and practical necessities, transforming your vacation into something extraordinary.
So, when you tip travel agent, it's not just about gratitude but an appreciation of their invaluable service that often goes beyond the commission they receive. A tip acknowledges the passion and dedication they invest in every vacation they design.
So, as you pack for your next Dubai adventure, remember that an enriching travel experience didn't just happen; your travel agent meticulously crafted it.