Yearning for adventure?
The Great Ocean Walk, a journey along Australia's stunning southern coastline, is one of the world's most breathtaking and unforgettable hiking trips. This trek holds against iconic treks such as Patagonia's Torres del Paine, Peru's Inca Trail, and the American National Park adventures in Yosemite and Yellowstone. However, the Great Ocean Walk offers a unique and thorough Australian hiking experience unlike any other.
When embarking on this hiking tour, trekkers will traverse picturesque coastal landscapes, meander through lush green forests, pass ancient rock formations, and encounter diverse wildlife along the way. Like how the Camino de Santiago weaves through various terrains, the Great Ocean Walk showcases the best of Australia's scenic beauty, making it an essential addition to any hiking enthusiast's itinerary.
The Hike Itinerary And Details
The Great Ocean Walk stretches 104 kilometers (64 miles) from Apollo Bay to the iconic Twelve Apostles, with the option to divide the trek into manageable segments or tackle it. Here's a possible itinerary for a complete journey across this fantastic trail:
Day 1: Apollo Bay to Elliot Ridge (10 km / 6 miles)
Begin your adventure in Apollo Bay, a picturesque coastal town. The hike will take you to Elliot Ridge through beaches and rainforests. Get ready to spot koalas resting in eucalyptus trees!
Day 2: Elliot Ridge to Blanket Bay (12 km / 7.5 miles)
Trek through serene forests teeming with wildlife before reaching the shores of Blanket Bay, where you may stumble upon fur seals basking in the sun.
Day 3: Blanket Bay to Cape Otway (10.5 km / 6.5 miles)
Cape Otway is home to one of Australia's oldest lighthouses and offers stunning views of Bass Strait and the Southern Ocean. Crossing sandy beaches and wind-sculpted cliffs, expect awe-inspiring views aplenty.
Day 4: Cape Otway to Aire River (10 km / 6 miles)
Navigate through groves of eucalyptus trees and arrive at Aire River, where you might observe kangaroos and wallabies grazing on the lawns.
Day 5: Aire River to Johanna Beach (14 km / 8.7 miles)
This part of the trek offers a challenging yet rewarding experience as you traverse rugged cliffs, remote beaches, and lush green meadows, eventually arriving at the gorgeous Johanna Beach.
Day 6: Johanna Beach to Ryan's Den (14 km / 8.7 miles)
Allow the Milky Way to guide you along this walk section, as the hike from Johanna Beach to Ryan's Den is best enjoyed during twilight hours. Encounter captivating views of the coast at Moonlight Head.
Day 7: Ryan's Den to Devils Kitchen (13 km / 8 miles)
Climb to hidden gullies and remote coves as you approach the serene Devil's Kitchen, a perfect spot to set up camp for the night.
Day 8: Devils Kitchen to Twelve Apostles (16 km / 10 miles)
The final stretch of the Great Ocean Walk leads you to the pièce de résistance – the iconic Twelve Apostles. Head to the viewing platform to capture your moment of triumph with the mighty limestone pillars as your backdrop.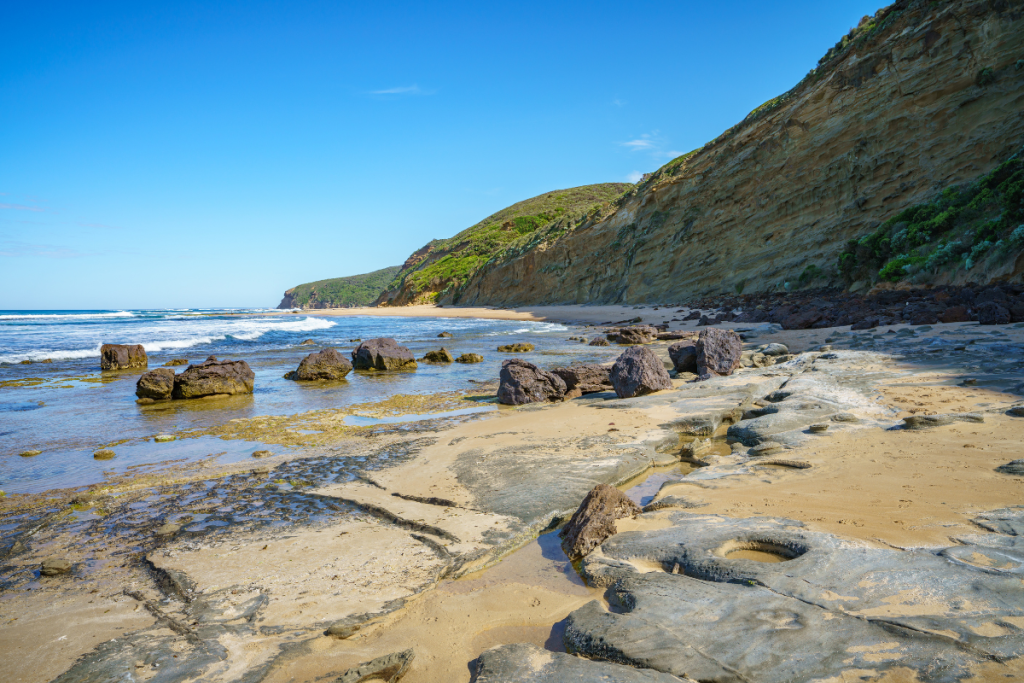 Preparing For The Trek — Essential City Facts to Note and Avoid
Proper preparation for your hiking adventure goes beyond the packing list and gear. Essential city facts and local customs are equally significant, and some pitfalls can be avoided for a seamless trekking experience.
As with any great trek from Yosemite Valley to Torres del Paine National Park, enlisting the help of local guides, like those from a company like Wildland Trekking, can smooth the journey considerably. The right hiking plan matched to your fitness levels allows you to focus on one foot in front of the other and thoroughly reconnect with nature.
Essential Facts To Note
Know the Basics: Understand the local regulations and safety protocols of the areas you'll traverse. Knowledge of local emergency numbers and nearby medical facilities can be lifesaving.
Local Wildlife: Australia is known for its abundant wildlife. Make sure to educate yourself on local species to avoid unsuspecting encounters.
Respecting the Environment: Practice 'Leave No Trace' principles to maintain the original charm of the trails.
Fitness Matters: Hiking the Great Ocean Walk requires a reasonable fitness level. Prepare yourself for this ultimate adventure with regular exercise, focusing on cardio and leg strength, as you may need to carry some equipment resembling the physical demands of Yellowstone or any mountain peaks.
Pitfalls To Avoid
Avoid Overpacking: An overloaded backpack could cause discomfort and fatigue. Stick to your packing list, focusing on the essentials.
Ignoring the Weather: Like a descent into the Grand Canyon, weather conditions can change rapidly. Checking the local weather forecast before you start your trip will help.
Unawareness of Tides: Higher tide times can affect specific sections of the Great Ocean Walk, requiring detours. Pay attention to tide times and plan your day hikes accordingly.
Neglecting to Reserve Campsites: Campsites along the trail can get taken quickly. Ensure to book your spot well in advance to avoid disappointment.
Setting out on a well-informed adventure lets you make the journey less about reaching the next destination and more about enjoying the remarkable natural beauty of the trail. Each backpacking trip offers a unique experience for every trekker, from supported hikes to camping-based expeditions.
Happy hiking trip!
Backpack Essentials Needed For Australia Hiking Adventure
Preparing for one of the best hikes in the world, the Great Ocean Walk, requires pre-planning, including compiling a comprehensive packing list. As seasoned trekkers would say, each hiking adventure is unique: a descent into the depths of the Grand Canyon, a trek to the Everest Base Camp, or a backpacking trip through the Smoky Mountains.
The grandeur of Australia's sea-kissed trails makes for a world-class hiking destination, equally demanding and rewarding, much like the craggy mountain peaks of Annapurna or the serene desert landscapes of Joshua Tree.
Essentials To Pack
Map and Compass: Despite many trekking tours' excellent signage, paper maps or a compass are crucial for navigation, especially in remote areas. Guided hikes with local guides from companies like Wildland Trekking can provide additional security.

First Aid Kit: Essential for any hiking vacation, it should include band-aids, antiseptic wipes, tweezers, medical tape, pain relievers, and any personal medication.

Food and Water: High-energy snacks and at least two liters daily are recommended. Always have slightly more supplies and equipment than you think you'd need. For an extra treat, pack a little bit of everything!

Clothing: Layering is vital for tackling various climates. Include a waterproof jacket and pants, thermal underwear, a hat for sun protection, and sturdy hiking boots for those craggy terrains, much like the terrains in Sedona or the Dolomites.

Camping Equipment: For multi-day hiking, as you would find in the Smoky Mountains or Olympic National Park, you need a lightweight tent, sleeping bag, camping stove, and utensils. Ensure light packing to keep the journey manageable.

Trekking Poles: These are helpful, especially on steep climbs and descents, mirroring the challenging gradients of mountaineering treks like Torres Del Paine National Park or Everest Base Camp.

Binoculars: Useful for bird-watching and whale-spotting, common along Australia's coastal trails.

Backpack Cover: Unpredictable weather changes require a waterproof backpack cover to protect your belongings.

Flashlight and Whistle: Basic safety equipment is valuable in all hiking scenarios, from cozy inn-based hiking tours to camping-based ones.

Sunscreen and Insect Repellent: Essentials for all trekkers. The Australian sun is intensely bright, and you may encounter buzzing bugs along the trails!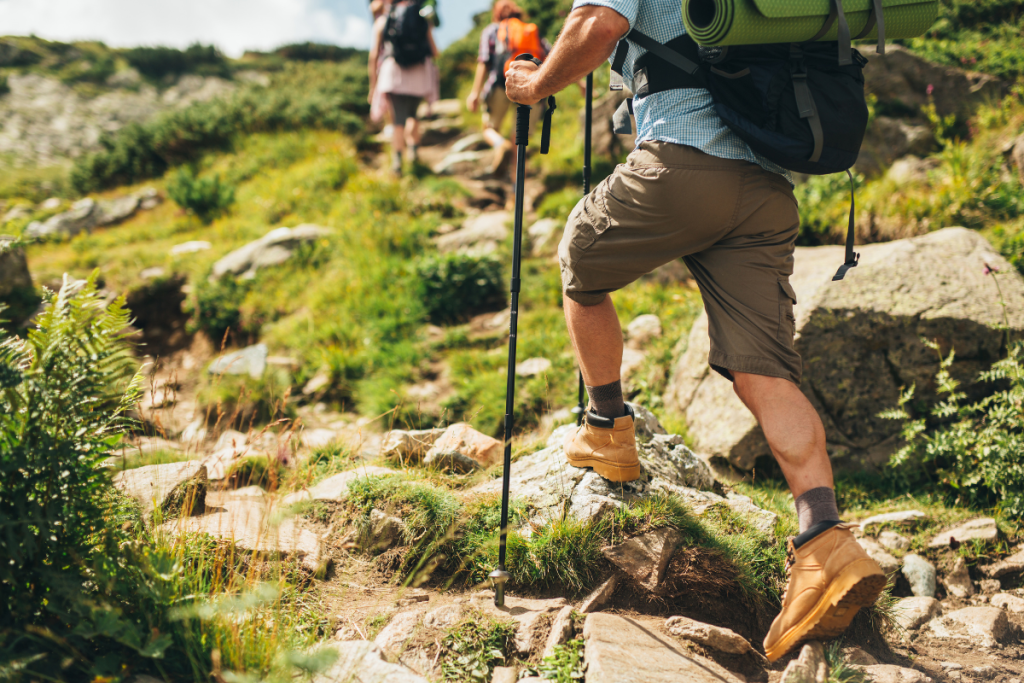 Hiking and trekking are much more than reaching the next destination. Whether you join guided walking tours or embark on a solo backpacking trip, your goal should be to reconnect with nature, set one foot in front of another, and capture memories. Make the most of this incredible hiking journey through Australia's natural splendor, indeed equivalent to the world's highest and most impressive national parks (the Yosemite Valley, Denali, and the Great Smoky Mountains) or trekking trips to must-see destinations like Machu Picchu.
Always remember the right hiking gear ensures safety and enhances the joy of your ultimate adventure. So, pack thoughtfully for your Aussie exploration and enjoy the world's best walking on this award-winning hiking trail.
May your trekking experiences be plentiful and your packs be light—safe travels to all hikers and travelers!
Wrapping Up Adventurers!
Every step taken on the Great Ocean Walk brings you closer to nature, filling you with awe and admiration for its untouched beauty. Whether you're a seasoned hiker or just someone seeking solace in the countryside, the trail offers an unforgettable hiking experience as you take in the diverse landscapes and wildlife. When it comes to the Great Ocean Walk, the journey is truly as rewarding as the destination.
Join the thousands of hikers who have been mesmerized by this unique coastal trail and embark on an extraordinary journey through one of the world's most extraordinary landscapes. The Great Ocean Walk is more than just a hiking trail; it's a travel experience like no other – an adventure that enriches your soul and paints indelible memories across the canvas of your mind.
So what are you waiting for? Lace up your hiking boots, pack your bag, and experience the irreplaceable thrill of the Great Ocean Walk. Uncover why this hike is an essential addition to your bucket list and why it is a testament to Australia's unprocessed beauty. Contact TheRogueTraveler for your grand hiking adventure now!